A New Look!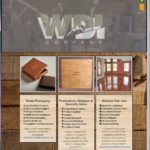 Thank you for visiting WDI on the web! We have recently updated and expanded our web presence and would like to direct you to our updated website at: www.wdicustomwood.com. Rest assured, all the information on this site is still accurate, but we now offer more information and more recent examples of our work on our new site. We could have sent you there automatically, but we want to reassure you we are not sending you on a web wild goose chase. Our new website will more quickly bring you to the information you require. It is divided into three separate areas, aligning more closely with our three business groups.
This page will be removed in the near future. If you have any questions, please feel free to call 651-464-6190 or 1-800-899-4265.
At WDI, we have been serving business customers for over 50 years by creating beautiful custom wood pieces and components.
Every project is custom built to your specifications (and we can provide assistance if you need help finalizing the design). Our experienced craftsmen have been working at our manufacturing facility in Forest Lake, MN to make beautiful wood pieces for hundreds of business clients. Read some of our case studies to learn more.
We look forward to working with you. Here are some frequently called numbers you may find helpful:
For Sales and Price Quotes, use our convenient Request for Quote form, email your specs to dank@wdicustomwood.com or call Dan at (800) 899-4265.
For Billing/Invoice questions, contact Michelle at 651-464-6190.
For Customer Service questions, contact Leslie at 651-464-6190.
For Artwork/Proof questions, contact Leslie at 651-464-6190.
Below are some of our technical capabilities and manufacturing options available to customize your project:

Personalization Options
Logos and branding engraved or imprinted right on wood
Engraved areas can also be filled with colored ink such as gold, silver, white, black or maroon to make them stand out more – this is called Colorfill.
Logos and branding engraved on metal or stone plates, then mounted on wood
Screen Printed logos and personalization
Personalized with recipient's name to create an individually personalized, one of a kind item
Wood Options
Oak
Walnut
Cherry
Pine
Maple
Bamboo
Red Alder
Mahogany
Poplar
Aspen/Basswood
MDF
Other Exotic Woods
Finish Options
Matte Finish Clear Lacquer
Satin Finish Clear Lacquer
High Gloss Clear Lacquer
Ebonized
#1 Cherry (Mahogany)
Other custom finishes also available
Joint Options
Miter Joints
Miter Locking Joints
Box Joints
Butt Joints
Lap Joints
Tongue and groove joints
Spline Joints
Mortise and tenon joints
Mission style joints
Biscuit Joint
Lid Options
Attached Lids
Detachable Lids
Lift off Lids
Slider Lids
Glass Lids
Engraved Metal or Stone
Plates on Lids
Hinge Options
Brass Hinges
Piano Hinges
Kerf Hinges
Pin Hinges
Ornamental Hinges
Mini-Hinges
To request a quote for your custom project, just click here.