A New Look!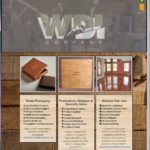 Thank you for visiting WDI on the web! We have recently updated and expanded our web presence and would like to direct you to our updated website at: www.wdicustomwood.com. Rest assured, all the information on this site is still accurate, but we now offer more information and more recent examples of our work on our new site. We could have sent you there automatically, but we want to reassure you we are not sending you on a web wild goose chase. Our new website will more quickly bring you to the information you require. It is divided into three separate areas, aligning more closely with our three business groups.
This page will be removed in the near future. If you have any questions, please feel free to call 651-464-6190 or 1-800-899-4265.
Beautiful wooden boxes = high perceived value
This page is for our business clients who need custom built wooden boxes – if you are looking for wood boxes for your own personal use or to give as a gift, please click here.
For over 50 years, WDI Company has created beautiful, high-quality custom wooden boxes for hundreds of business clients. Whether used for keepsake storage, product packaging or presentation of items, wood boxes create huge perceived value.
WDI also offers tons of personalization options to customize the box for your brand. We can engrave or screen print your logo on the box, or even personalize each box with the individual recipient's name. Nothing is more special than a personalized box.
View the wood box gallery at right to see our craftsmanship – click any image to start the slideshow.
Custom wooden box projects include:

Product Packaging and Displays
Cigar boxes
Humidors
Medal boxes
Wine Boxes
Liquor Boxes
Promotional Items
Logos on Boxes
Personalized Boxes
Holiday Boxes
Knife Boxes
Gift Boxes
Coin Boxes
Stamp Boxes
Memory Boxes
Keepsake boxes
Collection Boxes
Presentation Boxes
Museum Boxes
Showcase Boxes
Ensign Boxes
Memory Boxes
Watch Boxes
Jewelry Boxes
Pocket Watch Boxes
Flag Cases (with and without bases)
Military Boxes
Trinket Boxes
Cremation Urns (Human and Pet)
We can help you design boxes that increase your brand value and create a difference from your competition. If you know exactly what you want, submit your quote request here. If you just have some ideas, call us and we'll help you design the perfect packaging solution.For a quote on your custom wood box project, click here. To see all the craftsman details like available types of wood, hinges, joints, and lids, click here.
Click the icon below to view additional images of items we have produced in the past.