A New Look!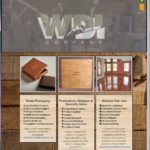 Thank you for visiting WDI on the web! We have recently updated and expanded our web presence and would like to direct you to our updated website at: www.wdicustomwood.com. Rest assured, all the information on this site is still accurate, but we now offer more information and more recent examples of our work on our new site. We could have sent you there automatically, but we want to reassure you we are not sending you on a web wild goose chase. Our new website will more quickly bring you to the information you require. It is divided into three separate areas, aligning more closely with our three business groups.
This page will be removed in the near future. If you have any questions, please feel free to call 651-464-6190 or 1-800-899-4265.
To see our new awards and promotions page, please click this link (www.wdicustomwood.com/awards.html) now!
Award plaques provide the recognition that people crave!
Recognizing people's accomplishments is what makes them strive to do more. Saying, "hey, you put forth the effort and made a significant contribution to our success" is what motivates people to keep doing their best. Don't miss any opportunity you have to recognize that effort and make the people on your team feel special.
WDI's enormous line of award plaques can be personalized for each recipient or ordered in bulk. Our line of trophy and award bases can enhance and set off any award in beautiful style.
View our photo gallery at right to see examples of our high quality craftsmanship – just click on one image to start the slideshow! Our award plaques line offers stock and custom wood products such as:
Picture Frames
Plaques
Award Frames
Flag Cases
State Shaped Plaques—currently available for:

Minnesota
Wisconsin
Iowa
California
New York
Florida
Other states available upon request
To get a quote for your custom wood award plaques or other recognition items, click here.