A New Look!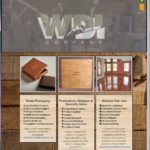 Thank you for visiting WDI on the web! We have recently updated and expanded our web presence and would like to direct you to our updated website at: www.wdicustomwood.com. Rest assured, all the information on this site is still accurate, but we now offer more information and more recent examples of our work on our new site. We could have sent you there automatically, but we want to reassure you we are not sending you on a web wild goose chase. Our new website will more quickly bring you to the information you require. It is divided into three separate areas, aligning more closely with our three business groups.
This page will be removed in the near future. If you have any questions, please feel free to call 651-464-6190 or 1-800-899-4265.
WDI provides the following guidelines to assist with submitting artwork for imprinting and personalization. Please call us at 651-464-6190 if you have any questions!
Production Ready Artwork Guidelines:
All artwork submitted should be in compliance with copyright and trademark laws. Copyright and trademark compliance is the responsibility of the customer.
Artwork is accurately sized at 100% of imprint size. Resizing to fit imprint area will incur Art prep charges.
Submitted electronically as an .AI, .JPG or .EPS file or .PDF file. File size limitation is 10 MB.
Resolution is at least 300 dpi for line art, at least 1200 dpi for grayscale and bitmap images. Photos should have a strong contrast.
Artwork should have all fonts embedded in it or fonts should be converted to outlines.
Multi-color artwork should be color separated in the file. A composite copy should also be sent along for reference.
Electronic artwork files should be emailed to HeatherD@wdicustomwood.com. Paper artwork can be mailed to WDI Company, Attn. Heather, 908 Southwest 15th Street, Forest Lake, MN 55025. Paper artwork will incur charges to convert to electronic; paper copies will only be returned if arranged in advance.
Proofs:
Proofs are provided for all orders. Proofs may be emailed or faxed to you.
Approval must be received by WDI from customer before production can start.
First two proofs are included FREE. Additional revisions and proofs are $15 each (z).
Any questions, you can call Heather at 651-464-6190 during regular business hours.